Today's Beauty Report
What are these hard white bumps on my face and how do I get rid of them?
Many women who come to me for Dermaplanning facials are wanting to know what these white things are on their face, and the most common response I have for them is, "You have milia but the good news is, I can help you with this, and it is normally very treatable with speedy results."
Then I go on to explain what milia is, how it forms and what to do to get rid of it. So let's take a few moments to inform all of my readers on milia with today's beauty report.
Milia is the small, hard, seed-like cysts, normally white in color that form on the skin's surface from keratinized dead skin cells that get trapped underneath the surface of the skin.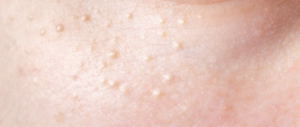 Milia is commonly found on babies because their skin is learning how to exfoliate, or slough off the dead skill cells. As the skin reproduces and leaves behind these dead cells they rest on the skin and get trapped in the pores causing these tiny bumps. Sometimes these bumps can also be called Comedone's, which is a Dermatologist term for clogged pores.
I have found most of my teen and adult clients who are experiencing these outbreaks of milia or comedones have similar stories such as: stress, lack of time to spend on their skin, hormonal imbalances, and unhealthy eating habits. Ultimately, leaving them feeling frustrated from trying to find a solution that works!
How can you take action?
Here are some tips to preventing and helping to get rid of milia and comedones.
Cleanse with Salicylic Face & Body Wash a micro-exfoliating cleanser with 2% salicylic acid for enhanced dead cell removal and coconut oil to balance the skins moisture levels. This is 100% fragrance & sulfate free. Unclogs pores and improves pigment while clearing those unwanted bumps from your face, back of arms & elbows, shoulders & back, and anywhere else you want to smooth the skins texture.
After cleansing tone your skin with Dual Action Toner to help refine skin's texture and dissolve oil & debris inside the pores. Daily use will give the skin a gentle microscopic exfoliation and leave it with a healthy radiance.
You can catapult your results by adding Green Tea Antioxidant Serum to your daily regiment.
While using a moisturizer is vital to helping preserve the elasticity of your skin clients report that they have a hard time finding a moisturizer that doesn't feel heavy or cause more breakouts. Clarifying Moisturizer may be your answer. This oil-free hydrator will improve & brighten overstressed skin.
Remove these dead that rest on your skin by taking action:                                                                            A.   Apply small amount of cleanser then use a nylon buff ball, that will not scratch the skin, and make circular movements to cleanse and remove debris, rinse with luke warm water.  B.   Apply a small amount of cleanser to an exfoliating glove and make upward circles to slough of dead cells, rinse with luke warm water.
Go to a trained professional to have Derma planning Facials that will slough off these dry, dead cells that just rest on your face creating havoc. After having a derma planning facial and all the excess debris is removed, this is when your skin will benefit the most by using a mask to super charge your results. Leaving your skin feeling nourished from essential vitamins and nutrients to allow oxygen to have a clearer pathway to regenerize you!
Today is the day for you to get started on getting that New Healthy Glow,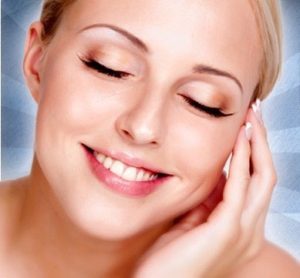 call Alisa Florio at 419-680-1486 or go to Profiles by Alisa and click the category on the upper left corner to begin your search of my online skin care store and see products and videos that will help you discover the best solution to get the skin care results you are looking for today!
Thank you for clicking into TODAY'S BEAUTY REPORT and you have a wonderful day!
Alisa Florio