What helps a woman feel complete
Many women come to me who have lost their eyebrows and eyelashes, or deal with unwanted facial hair scarring, wrinkles, acne, uneven skin tones & age spots. Some factors that contribute to these concerns are the pollutants from free radicals in the environment along with stress, illness, fatigue, medication, as well as natural signs of aging. So what are some of the things that can be done to help a woman feel complete?
Permanent Makeup, Dermaplanning & Micro Needling
Can add a huge value in the life of a woman who wants to feel confident and is looking for an ease to her busy lifestyle.
Permanent Makeup
can be applied to simulate the appearance of natural looking hair strokes in brows, while eyeliner helps with thinning lashes; these two treatments together help to bring brightness back to her eyes.
Dermaplanning
is a safe alternative approach to remove dead skin cells and unwanted facial
fuzz. This
used along with my doctor grade skin care has resulted in dramatic improvements for many of my clients.
Micro Needling is a growing art that is used specifically in conjunctions with targeted skin care products to help aid in improving scar tissue, and to stimulate the reproduction of new healthy skin cells. Therefor helping to diminish the appearance of fine lines as well as those deep facial expressions around a woman's mouth and forehead.
Although many women come to me for answers on their outward appearance, I am realizing the growing numbers of women who come to get answers to things occurring in their hearts. We can find ourselves in circumstances that we struggle to get through. Feeling alone and possibly hurt by those we love. Some struggle with finding purpose and recognize they are not reaching their full potential but don't know how to get through the hardships they are faced with. This is why I wrote and published, "No More Tears With Jesus!"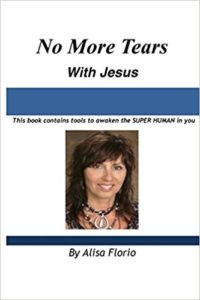 I too struggled with these same questions of finding purpose and working through hurts, illness and loss. I began to realize I was looking for answers from people where answers were not able to be found. It wasn't until I reached inside the core of who Alisa was, that I was able to finally be free of some of the harboring questions that seemed to keep me captive. Now I am living a life of purpose and expanding on the things that I love to do, and who I love to be. This is my hope for everyone. I want to encourage you; if you feel stuck and are struggling with circumstances and want to expand on finding the greater good that lives in you, now is the time to purchase, "No More Tears With Jesus."  You can contact me at 419-680-1486 or order online at  profilesbyalisa.com
Thank you for letting me share the beauty of a woman inside & out!
Alisa Florio
                Profiles by Alisa 1450 Oak Harbor Rd. Fremont, Ohio  419-680-1486